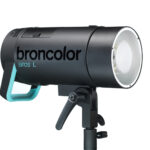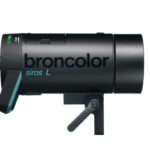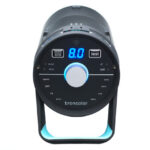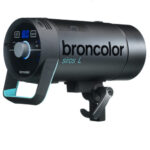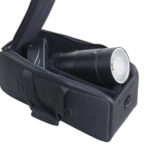 SKU: BCSG31.710.XX
Includes
1 Siros 400 L WiFi / RFS 2 (incl. umbrella reflector), 1 Lithium-Ion battery, 1 Battery charger, 1 Flash Bag 1.1, 1 USB cable

Siros 400 L Battery-Powered Moonlight provides photographers studio quality lighting on the road free from power cords and sync cords. Powered by a Li-ion battery, the flash head gets up to 440 full-power flashes on a 70-minute charge. The LED modelling light consumes 25 W only but it is bright enough to build your set and focus properly. The colour temperature of 3000 K matches perfectly with the modelling light of Siros S. Recycling is a lightning fast 0.03 – 1.2 seconds, while normal t0.5 flash duration is as short as 1/6200 sec.
The Siros L is broncolor's battery-powered monolight, which provides ambitious professional photographers with the opportunity to enjoy the perfect lighting, be this in a mobile form in the studio, or for external shots – offering up to 440 flashes at full power per battery charge, colour constancy and very fast flash durations. Easy to control with the bronControl app.
All Siros L units with the latest software update are "HS" compatible. "HS" lets you use flash in combination with shortest shutter speed settings on your camera. For example, with ambient light, even with the aperture wide open (selective focus), the image can be underexposed correctly with up to 1/8000 s and Siros L still lets you set dominant and creative light effects. All you need for this is the RFS 2.2 trigger, which is available for Nikon, Canon and Sony cameras.
Highlights:
f-stop at 2 m (6 1/2 ft) distance, 100 ISO):

with reflector L40: 22 5/10
with reflector P70: 32 5/10

broncolor HS function
flash duration: t 0.1 (t 0.5):

min. energy: 1/9000 s (1/19000 s)
max. energy: 1/400 s (1/1200 s)

charging time (at 28.8 V):

eco mode: 0.04 – 1.9 s
normal: 0.03 – 1.2 s

Control range of flash energy:

over 9 f-stops in 1/10 or full f-stop steps
2 – 400 J
Sequences up to 50 flashes
modelling light: 25W LED, 3000 K
TECHNICAL SPECIFICATIONS
| | |
| --- | --- |
| Weight | 12.6 kg |
| Dimensions | 46 × 35 × 61 cm |
Related Products